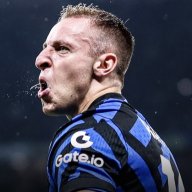 Joined

Jan 27, 2009
Messages

27,050
Likes

7,818



Forum Supporter

10 years of FIF

Best Overall Poster

Most Humorous Member

FIF Special Ones
Tuttosport saying we value him at 35m now.

it's about time we overvalue our shite
We've already been doing this for a long time, hence the plusvalenza investigation.
That said, the punishments requested for juve and Napoli were so laughable* that we may as well just blatantly engage in more books-inflating and consider the fines as a minor fee.
*Despite the fact juve and co. were ultimately acquitted, I don't trust that we'd get the same favorable results.