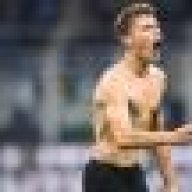 La Grande Inter
La Grande Inter
Joined

Apr 23, 2005
Messages

12,156
Likes

594
Favorite Player

Nicolooo


Forum Supporter

10 years of FIF
Of our 3 strikers, I'd rather get rid of Milito this summer (or next summer), and Palacio sooner than Cassano, but we do desperately need some rejuvenation up front. Icardi and hopefully Markovic will do that.
I agree with getting rid of Milito considering his wages. But I'll definitely keep Palacio longer than Cassano. Palacio still has 2-3 years left in him, has more hunger than the other 2; and is more versatile considering he can play on either wing or in center.
With Cassano, we are forced to play a lop sided 433, but with Palacio we can have a pure 433/4231.
But the big question is whether we can get any money for Cassano, or we will just let him go to Samp. Maybe, he can be used as a bargain for Obiang.