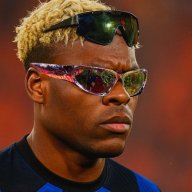 La Grande Inter
La Grande Inter
Joined

Mar 3, 2009
Messages

17,177
Likes

3,386



10 years of FIF
Conte exceeded expectations last season, and has performed around the expected level this season.

All in all a good stint. He was never, ever about beautiful football so I don't understand the criticism on that front.
If you talk about it based on paper then maybe yes, but the way Spurs has approached both games vs Milan is just pathetic. And Milan of this season is even worse than last one. Also their run in the league is very inconsistent despite that they're still chasing the top4. Pretty much they are lucky that Liverpool and Chelsea have gone through a worse period and they have issues.
Football can be very unpredictable with these events, but Conte's season has been beyond pathetic so far. Then again, Inter isn't doing any better though