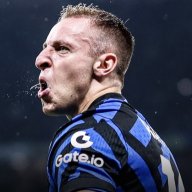 Joined

Jan 27, 2009
Messages

27,707
Likes

10,237



Forum Supporter

10 years of FIF

Best Overall Poster

Most Humorous Member

FIF Special Ones
We have the same points as we did this time last year. We started slowly last year.
No offense intended but I really don't feel the comparison is legitimate.
I know the point you're trying to make is that despite a slow start we went on to improve - and that we can do so again.
True, but I don't think the context is remotely similar. This team is undeniably, inarguably, significantly worse than last season. We've lost Eriksen, Lukaku and Hakimi and replaced them with B grade replacements. In the case of Hakimi > Dumfries, a
D
grade replacement. Most importantly we lost our serial winning coach for a guy who is actually far less qualified than Spalletti was when he took over.
I had hoped that despite these losses, the team would've retained that winning mentality after finally overcoming the mental hurdle to become champions. However the evidence is damning. In our 3 games against big clubs, all 3 times we've taken the lead only to drop points, earning just 2 out of 9, compared to Milan's 7/9 against the same teams.