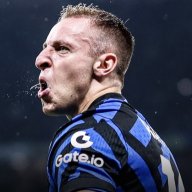 Joined

Jan 27, 2009
Messages

27,847
Likes

10,757



Forum Supporter

10 years of FIF

FIF Special Ones

Most Humorous Member
What do you want him to say in public "We suck as a team, I blame moratti for not buying anybody during the summer and starting us off with a crappy coach. Also, I hope Chivu's car explodes on his way back home". He's a captain for god's sake it's his job to try to be the most positive out of the bunch.
Being diplomatic and calm is one thing. But honest is another thing too. He's just sweeping the issue under the carpet as he's always done.
Ironically, Zanetti gave a great performance tonight (until Raul's goal) and appeared very determined, possibly after the derby rape.
We are just sick of our leader being
too
nice. Sometimes people need a fucking big fucking wake up call for them to get their heads out of their asses.