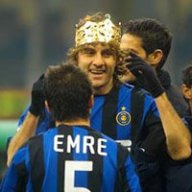 Joined

May 4, 2010
Messages

3,720
Likes

583
Favorite Player

Dimarco


10 years of FIF
The following player's contracts are running out in the summer:
- Cordaz
- Dzeko
- Handanovic
- D'Ambrosio
- de Vrij
- Lukaku (on loan)
- Acerbi (on loan)
- Gagliardini
- Skriniar (traitor
)
- Dalbert

- Bellanova
Tbh I wouldn't give any of those dudes a new contract and would let all of them leave. According to
capology
we would save
50.820.000
million gross if we let all of them leave. This number is fucking crazy because all those dudes contribute like nothing to the team.
I really hope that in summer there will be a big change in our squad. Next to the mentioned guys above we have to get rid of Correa as well. According to capology that would be another 6.480.000€ saved in wages.
So the problem is not that we don't have money, but that we are spending way too much money on useless players. Every other big club has club-trained players integrated in their squad. Why can't we do the same? In my like 20 years as an Inter fan Dimarco is like the first one who really contributes to the team. And imho it is not like we don't have any good youth players, e.g.:
- Pirola (CB) played very decent against us yesterday
- Satriano (ST)
- Mulattieri (ST) has scored 11 goals and made 4 assists in Serie B this season
- Fabbian (CM) has scored 8 goals and made 1 assist as a midfielder in Serie B
- Agoume (CM)
- Zanotti (RB)
- Carboni (CM)
I am not talking about putting those guys into the starting formation, but at least they should be good enough for a rotational option and those guys don't earn too much and still have to prove themselves.