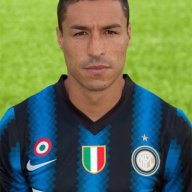 Joined

Jul 22, 2022
Messages

73
Likes

39

For me right now the question are only one, is it wise for inter to not extend player in the position in the squad like Skriniar who is a first team player at least before his contract run out in less than 12 months?? It doesn't matter if you want to sell him, if he is already signed new contract you could still sell him end of season..
For that alone i really believe Inter shoot themselves in the leg for this..
And also in Skriniar POV, i think it's for the best for him to leave.. Because yes he is a first team player, but look how easily Inter signed a bench player and give him a higher salary than you.. And the club track record who aways listening to offer for you.. And there is no guarantee they will stop doing it again.. Because who else will they sold? Maybe Dumfries but after that? He is the most expendable player but still have value in the team.. Remember someone in management clearly said its easier to replace a defender than a striker... About the captain position? He is only a replacement captain, Inzaghi clearly said if Handa play, Skriniar wont be the captain..