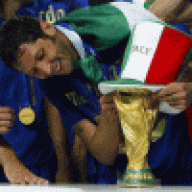 Joined

May 22, 2004
Messages

9,063
Likes

1,857
Favorite Player

Oba


10 years of FIF
To me curry is just the better team player and he s probably the only superstar that will rather win than boost his ego....
He could have told KD to fuck off but he wanted to win more and it s obvious the media spins as if curry would not have won without KD but lets not get it twisted those warriors teams still evolved around curry...
Again like why would it be a good thing to tell another great player to fuck off? The goal is winning chips not proving your the baddest dude.
I for one would be extremely pissed if Lautaro would be like fuck mbappe i dont want him here... ( like how is that the smart or right thing to do?)
(also i know now way in hell we d have a chance but you get the point.)

There has not ben a single Kobe/shaq situation with Steph the KD thing was with Green and i think they even mended that imho KD would have left anyways. Also look at how the youth develop at GSW yes it s not all curry but imho he deserves partial credit for that.
I mean look at him starting the playoffs from the bench i dont think any other superstar would have done that even if it made sense. Heck even draymond insisted on starting his first game back from injury.

Just think Curry makes it easier to build a team around him than Kobe would.

Also last but not least fuck those lists they make 0 sense when comparing different areas and even different positions..
And when it comes to top 10 top 15 it s so close that arguments can be made both ways and there really is no correct answer.

Also lest not forget that basically everybody agrees steph is the best shooter ever.