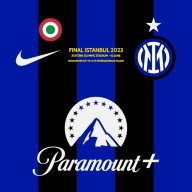 Joined

Mar 9, 2004
Messages

5,256
Likes

3,637


10 years of FIF
There are some really skewed opinions on the last few pages of this thread ranging from: Barella being overrated to Ancelotti conspiracy theories.

I am wondering why many posters on here have chosen to ignore or will not admit to the following:

- Barella is exhausted, hence his recent below par performances;
- We did not stand a chance of beating Madrid in Madrid;
- There is a huge gap in class, both in terms of playing personnel and mentality and their abilities, between Real Madrid and Inter;
- Barella's red card and absence, whether it will be for a game or two games will detrimentally effect us in the next round;
- Some posters may not like this, but do you remember when Conte in his first season talked about European experience and only having the likes of Barella? Barella's petulance, red card and suspension for the next round are exactly what Conte was referring to, even back then.

Essentially, Conte was not criticising Barella and the way he plays the game. He was commenting on his experience, or lack thereof when it comes to playing in the Champions League.

Barella's red card against Madrid is a case on point as he failed to understand the occassion and did not have the presence of mind to refrain from doing anything stupid that would only hurt the team both in the game they were playing and in the next round.

Despite winning the Euros with Italy and a Scudetto with Inter, Barella and the rest of the team are still green when it comes to playing in the Champions League against quality opposition. Seasoned European teams like Real Madrid know exactly what to do to gain and take advantage. Barella took the bait and in so doing let down his coach, teammates and our supporters.

Barella is not Captain material. He is hot headed and opponents know he is susceptible to losing his shit.

Lastly, I do not think that Barella needs the armband to play and perform at a high level.
Last edited: