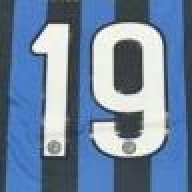 La Grande Inter
La Grande Inter
Joined

Feb 3, 2009
Messages

12,164
Likes

865
Favorite Player

Zanetti


10 years of FIF

Most Optimistic Member

Transfer Guru
Transfer Rating Criteria:
1. How well has the club covered the gaps exposed last season
2. How much the squad has improved relative to the net money spent
3. How suitable is the final squad to the coaches requirements
INTER
Key signings:
Joao Mario, Gabigol, Candreva, Ansaldi, Banega
Net Transfer Inflow = €13m sales - €113m costs =
-€100m
Analysis:
Big spending shows intent, with 3-4 quality buys. The desire to hold on to their stars (Icardi, Brozovic, Perisic) shows further intent. Improved wing and playmaking - two of the drawbacks last season. Missed improving the defence or defensive midfield. You would expect to improve the squad more with such a big investment. An average job of getting rid of unwanted players. How suited these transfers overall are to new coach is a big question mark, specially because Inter now look talent heavy in some roles and weak in others.
Rating: 6.5
MILAN
Key signings:
Fernandez, Palasic, Sosa, G Gomez, Suso, Paletta
Net Transfer Inflow = €15m sales - €27m costs =
-€12m
Analysis:
Underwhelming transfers for a club of their reputation, constrained by change of ownership scenario. Milan need much more to get back to the top 3. However, the incoming players seem to be relatively well suited to Montella's game.
Rating: 5.5
JUVENTUS
Key signings:
Higuain, Pjanic, Cuadrado, Pjaca, Benatia, Alves
Net Transfer Inflow = €164m sales - €163m costs =
€1m
Analysis:
Sold 2 key players (Pogba & Morata) but replaced them with the best player in Serie A in that position (Pjanic, Higuain). Added 4 more quality players, with a positive net inflow and a huge transfer profit. If they had succeeded in signing Witsel or Sissoko, this could have been a 10/10 calciomercato summer. Remarkable strategy, these motherfuckers are good.
Rating: 9
ROMA
Key signings:
Peres, Vermaelen, Fazio, Szczesny, Juan, Paredes, Alisson
Net Transfer Inflow = €64m sales - €98m costs =
-€34m*
Analysis:
Very focused transfer strategy to improve the weak defence that let them down last season. The Sporting Director and coach seem to be in perfect sync. The loss of Pjanic being the main negative. Transfer flow shows an incorrect picture, 90% of the money spent was on deals done last season. This window, Roma spent only 10-12m on new players. For that money, they did very well.
Rating: 6.5
LAZIO
Key signings:
Luis Alberto, Bastos, Leitner, Wallace, Immobile, Lukaku
Net Transfer Inflow = €27m sales - €35m costs =
-€8m
Analysis:
The usual disappointing transfer window that Lazio fans have come to expect. They replaced Klose well with Immobile, but Candreva will be a big miss. The main positive is that Lazio managed to keep hold of some of their stars like Biglia, De Vrij and Anderson.
Rating: 5
NAPOLI
Key signings:
Maksimovic, Rog, Diawara, Zielinski, Milik, Giaccherini, Tonelli
Net Transfer Inflow = €99m sales - €79m costs =
€20m**
Analysis:
Higuain will be a huge loss, but they got good money for a 29 year old. Napoli were also clever on the transfer market by focussing on building depth in most areas. Milik and Gabbiandini may not be able repeat Higuain's heroics, but in all other areas of the pitch Napoli have strengthened. Showed balls to keep hold of Koulibaly despite crazy offers. Another team like Juventus and Roma where these seems to be a good sync between the Sporting Director and the coach.
Rating: 7.5
FIORENTINA
Key signings:
Olivera, Salcedo, Tello, Carlos Sanchez, Toledo, Astori
Net Transfer Inflow = €35m sales - €14m costs =
€21m
Analysis:
A transfer campaign which looks incomplete. Managed to keep hold of Kalinic, but failed to improve their attack. Made good money on Alonso, so ended up doing well financially.
Rating: 5
*Roma's spend includes €78m on players signed last year like Salah, Dzeko, Rudiger, Perotti, Shaarawy, etc.
**Napoli's net inflow does not include the costs of Maksimovic and Rog which will impact next summer (€33m)
Last edited: