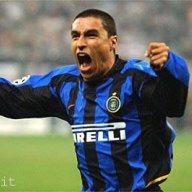 Joined

Mar 7, 2004
Messages

32,719
Likes

9,468
Favorite Player

Toro, Barella



10 years of FIF
The Giroud rumours remind me of the Keita Balde deal last year. At first it was loan with €25m option. Then €5m loan fee + €25m option. Then fucking €6m loan fee + €35m option.

Likewise, with Giroud, the first figure I saw was €5m and now a few days later it's €7m. I'm amused by my own stinginess because that €2m difference seems to bother me more than I'd like to admit.

Whatever though, I'd still pay it. The cost of

not

bringing in a striker in January will be far greater than the cost of securing Giroud or whoever.
Exactly my thoughts. 7m€ is a disgusting figure but if Granovskaia stays firm, then Marotta has to dish that. Giroud is the perfect option in the sense that he's a good backup option. Desperately looking for minutes ahead of Euros next summer, can't get them at Chelsea as 3rd option in 1-striker system. Has the experience at the top level (France NT, Arsenal, less at Chelsea).
He can take minutes from Lautaro also but specially from Lukaku. We don't have to use Lukaku in EVERY match or at least not start him at every match. He can start lesser matches (if in CL, Serie A or if in EL, then EL matches) or come in later so we don't have to depend on 17-year-old kid, no matter how well Esposito has performed. Truth is he's still so young kid that mistakes will be there, the lack of exp will show and as we are contending for the Scudetto so far, we need to minimize that as much as possible. Veteran like Giroud is perfect for that. I could live him scoring like ZERO goals if he's there just as a useful pylon, dropping balls, trapping balls and being the real targetman upfront we lack in Lukaku.