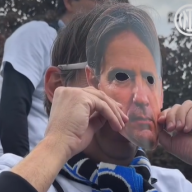 Joined

Dec 28, 2012
Messages

1,575
Likes

1,355
Favorite Player

Matrix



Forum Supporter
I don't know, the only other representation of evil personified - someone who has been accused of and punished for match-fixing, someone who, being literal captain, was at the heart of an organisation which was punished for match-fixing, someone who spent most of his career shitting on our club, someone who didn't abide by the FIGC's judgments and was more than happy to publicly state that his club has more championships than it has and so forth and so forth - that wasn't literally Conte joining Inter as its head-coach... was Hitler putting on the Star of David and people being a-okay with it. I don't know, maybe it was misguided.

I just don't get how you can be content, let alone happy with this. There's so much more to football than winning, and if that's really all you want, go support Juventus. That's literally their slogan - win at any cost. Or turn on FIFA, I don't know.
Now our slogan seems to be; If you can't beat them, turn into a crappy copy with a sporting director and some guy who bled their colors in charge, trying your hardest to disregard the history of your own club in the process.
And that's what it seems it's being paraded by people, here, now, on this very forum, it seems.

Inter, for me, stands for so much more. Yeah, it's the romantic way of looking at it, but what is love for a club if not romance?

Maybe, now, with a bunch of Juventinos in charge, trying to desperately emulate what they once happened to find success in, AND our management - the upper echelons of our club - not only being fine with it, but actively trying to chase exactly that... maybe i was proven wrong.

And that is a pretty tough pill to swallow.