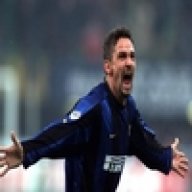 Joined

Nov 24, 2013
Messages

414
Likes

116
Favorite Player

Zanetti, Baggio

From Opta Paolo twitter account:

For their first time ever, Inter have lost a Champions League match after leading by 2+ goals margin (28 games previous of today).
This doesn't make sense.
"First time ever!!"
"28 games previous of today."
- - - Updated - - -
At the end of the day, you can't have your midfielders run 7km in the 1st half and expect to win. Come the 2nd half Dortmund just overloaded Brozo and Barella as up until the Sensi swap, Vecino was nowhere to be found besides his goal.
Conte should have switched to a flat 4-4-2 or even a 4-5-1 as Dortmund swarmed our mids. I get he wants to play a 3-5-2, but you need to adjust to the flow of the game. The team struggle mightily to gain any control of the ball in the 2nd half, and when they did they almost lost it immediately.
Martinez and Lukaku played WAY to high up the pitch in the 2nd half and IMHO are NOT a good pairing. One tries to do everything himself and the other couldn't control a cotton ball, gently rolled to him, the only cohesion these 2 have is they both play ST. IMHO Lukaku wasn't the striker we should have gone after. This is yet another game against a formidable opponent that he's disappeared against. Some people on reddit/Inter believe he wasn't bad today because he had some of the best hold up play...I'd like to see a number behind this because from what I saw, he couldn't do anything nor was his movement any good, Marty was doing everything once again.
I've come to the conclusion that the people that believe Lukaku is playing well are delusional, in NO way is Lukaku even remotely as good as Icardi (not saying we should have kept him).