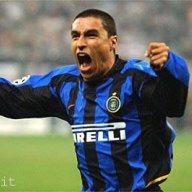 Joined

Mar 7, 2004
Messages

33,217
Likes

10,216
Favorite Player

Toro, Barella



10 years of FIF
Calhanoglu is a strange move by Inter. I know we are kinda replacing Eriksen to give Inzaghi his "Alberto", but still. Gross wages of €9m pa, its an expensive transfer for an inconsistent, injury prone player with little to no resale value at those wages.

Specially coz of our financial constraints, it is even more important to focus on the right target(s), players like Gosens or Raspadori or Locatelli. The total cost pa for these players will not be that much higher than Calhanoglu.
I understand this that we need to focus on right players. But Raspadori would be a bench player for us. While Gosens would be excellent signing, he'd cost over 30m€. And we don't have that kind of money for a transfer fee. Also neither of these players would have replaced Eriksen.
Calhanoglu decision had to be made right now. Management decided to take it and I respect them for going for it and not just waiting for something to drop from the sky later in the market which quite possibly wouldn't have happened at all.