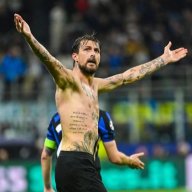 Joined

Sep 8, 2020
Messages

6,709
Likes

7,156
Favorite Player

Chino Recoba

I just don't fucking understand all the hate here!
What part of "we are i financial trouble" you don't understand? And that after one month coming from our management not from from a fucking journalist! Even worse. we lost one of key midfielders because of a fucking heart arrthythmia!
Yes, I would love also to buy Locatelli, Vlahovic, Gosens, SMS, but this is fucking impossible!

Marotta said crystal clear, that we need to sell one or two of our talents but in the same time, we need to remain competitive! For me Hakan fullfill these criteria! If you look of cost, risk and reward, actually is not a bad transfer at all! Yes, the salary is big, but the overall cost is not, because the comes as a free agent! The risk is also pretty low. Yes, he could be another Guglielminietro. No one knows! But what we know is that he played in Serie A at a club with the same pressure as Inter, he was one of their most consistent players (he and Kessie) and he is also young enough for the lenght of his contract (unlike Sanchez, Vidal or fucking Nainggolan).
What we need in this moment is to avoid catastrophies like Mario,Dalbet and Gabigol. We are not in a financial situation to allow another fuck-up of those caliber.
We all know who he is. I not expect to become way better. Maybe only marginally better in a new system. But the risk to completely fuck up is also low and the overall cost is acceptable. And this is the most important thing.
Totally agree. Given the circumstances this is a good purchase, we are dead broken and still bringing one of the key players of second best team in Italy Bbilan for free. Yea, salary is little problematic I agree with that. But why so much hate for a guy wtf I didnt follow him so what's going on? Lol