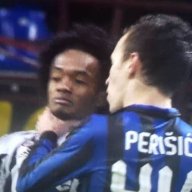 Administrator
Administrator
Joined

Jul 17, 2010
Messages

17,360
Likes

14,521



10 years of FIF

Forum Supporter
I'm sure we'll manage to enter January 2024 with Calhanoglu and Bastoni on the verge of leaving for free.
Switching to a back four wouldn't be that expensive. Dimarco can definitely play as a LB, provided we have a more defensive-minded RB. We would need to sign a few wingers, but that could easily be funded by using the money we're going to waste on Lukaku. A 4-3-3 can survive with two three strikers (Lautaro, Dzeko, and the corpse of Correa). It won't happen, of course.
The primary goal this summer needs to be fixing the defense. Skriniar is leaving for free, de Vrij blows, and our backups are all in their 30s. We need at least two CBs; one good enough to start. I assuming this will be Smalling (kill me) and Milenkovic (fuck you, Marotta).
I don't care what we do in attack. I just beg, please, don't sign (or loan) Lukaku. Let him go. He's Chelsea's problem.