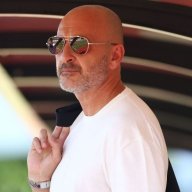 Prima Squadra
Prima Squadra
Joined

Jul 12, 2019
Messages

952
Likes

1,090

Inter really wish to pay back as much money that Chelsea paid for Lukaku. Way to ruin a good sale which Inter managed to do once in a decade.

We already paid too much to get back an injured out of form Lukaku on loan. Let's not make it even worse by extending it, or worse making it permanent. We don't even know who's gonna be the coach and how we're going to play next season. Why even think about keeping this fatass for another year when getting him back has turned out to be a failure so far?
We are obviously not a rich club but we are absolutely not poor either.
We're just goddamn stupid when it comes to spending wisely.
We do one expensive mistake (think Correa) that eventually gets erased by one smart cheap move if we are lucky (think Calhanoglu, even though his wages are kinda mad too). It's never balanced. It's actually funny because Dzeko is the smart cheap move that balances out both the Correa deal and the return of Lukaku, even though everybody spits on him.
Once sold Lukaku we should've forgot that he even exist. Especially given how he handled his move out of the club. But no, we're Inter, unbelievably scared to try anything new.