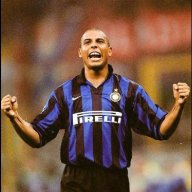 La Grande Inter
La Grande Inter
Joined

Jan 9, 2015
Messages

11,141
Likes

23,094
Favorite Player

LN Ronaldo dL

My. Fucking. Manager.

And to do this with the shit hand he's being dealt, ie our mostly shite and old as fuck squad, is extremely impressive. I was shocked he played Bellanova tonight, I'm not a hater on the kid like most of you because I don't judge players after only 3 minutes (I'm fuckin exaggerating) and write them off, and he was decent tonight. If Inzaghi trusts youngsters a bit more and the ownership actually backs him there's literally no one better to manage us for the next 5 fuckin years.
I am pretty sure theres a lot of better managers... only if you mean guys that are without a job... but, yea, anyway, we are still broke so there wont be any good players coming in... also, this guy lost the league to a nothing special Milan side and was never in a race this season, when the team is good enoug for at least be close.... like i said, we are becoming Lazio and some people are happy with it.