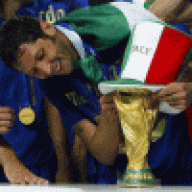 Joined

May 22, 2004
Messages

9,393
Likes

2,283
Favorite Player

Oba


10 years of FIF
didn't Barcelona MESSI-XAVIESTA, Madrid's NEO GALATICOS from 2009-2018 a successful football-project to bring them every trophies available?
Unlike Inter threw a huge salary for Godin, Vidic, Nacho just for nothing..
AHHH really? MAdrid from 2009 to 2018? not like in that time they spent over 100 mio in 4 transfer windows.. heck during that time they spent 101 mio for gareth bale......Like what are you arguing here? If RM was not a absolute top spender in salaries and transferes they would not have won nearly as much...
Maybe early barca won cause of their philosophy and their project but even they threw money at players left and right once they got there....