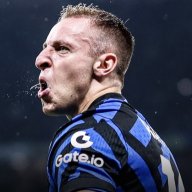 Joined

Jan 27, 2009
Messages

27,838
Likes

10,730



Forum Supporter

10 years of FIF

FIF Special Ones

Most Humorous Member
Oh. And good luck dealing with FFP. You're in for a rude awakening in the summer.
A noted lawyer and financial analyst from Korea hilariously stated in 2017, "from my perspective, it seems like the only two clubs on the continent who are upholding FFP are Inter and Roma."

Teams like PSG and Man City have been caught red handed for FFP breaches and the massive extent of their corruption was completely exposed in those leaks. Yet both of them avoided any real punishment, and continue to win appeals (because the TAS is equally as corrupt and incompetent as UEFA).
Milan too have already cheated the system twice: the first time, they were rightfully booted from the EL but appealed the ban and were eventually allowed back in. The second time, they simply didn't feel like playing in the EL so they manipulated their punishment into becoming a favor, and they were allowed to sit out the EL and focus on the league. We'll see what happens to them at the end of the season but based on what we've seen so far, do you honestly expect Milan to get a strict settlement agreement like we did? :rollani:
Finally, don't forget that earlier this season, juve openly engaged in the most blatant financial-doping with Jeep's "gift" of €25m. :rollani:
What makes you think that juve will get a rude awakening in the summer? What gives you faith that UEFA/TAS will, for once, not be corrupted and actually do their job? juve are one of the most powerful clubs in football, and Agnelli already has the losers at UEFA sweating nervously over his ideas to form a European Super League. Not to mention they are historic kings of cheating anyway

We keep seeing those reports about them being desperate for capital gains and shit. They face ramifications, because they're a publicly listed company, but from UEFA? I'll eat my hat if they get so much as a warning email from UEFA.
Anyway. Where's me fucken Eriksen.